Levi Ben Avraham (Luke Ford) has lived in and around the Pico-Robertson neighborhood since he moved to Los Angeles in 1994.
He is the author of five books, including:
» The Producers: Profiles in Frustration » Yesterday's News Tomorrow: Inside American Jewish Journalism
Read his autobiography here. Pictures. Fiction. Contact info. MySpace. RSS. Press. TV. Podcasts.
He has appeared in the USA Today (8/2/00), New York Post (10/7/97), New Times Los Angeles cover story (1/28/99), Los Angeles Times (7/8/99, 6/10/04), Sydney Morning Herald (11/14/98), Rolling Stone (8/19/99), Village Voice (3/4/99), The Independent on Sunday (1/18/98), GQ (12/99, British edition), Salon.com (7/13/99), Online Journalism Review (7/9/98), Composite (9/98), the Forward (1/7/00, 7/30/04), New York Times (5/20/01, 11/14/03), Details magazine 6/01, The Jerusalem Report (7/31/01, 8/19/04), Los Angeles magazine (04/04), LA Weekly cover (4/20/06), Los Angeles Daily News (6/5/07), Jewish Journal cover (8/3/07) and other publications.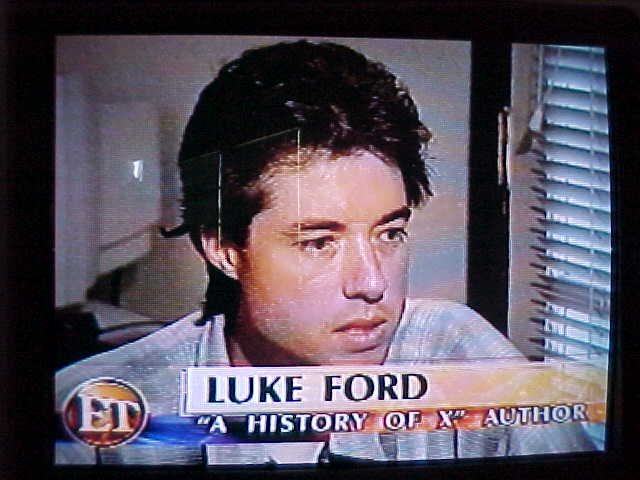 His TV appearances include Entertainment Tonight (2/8/99), Fox Files (3/25/99), the E! True Hollywood Story (11/5/00), Disinfo Nation (May, 2001), the National Enquirer's TV show Uncovered (6/13/01), VH1's Centerfold Babylon (10/12/03) and Hollywood Blackmail (April 2006), 60 Minutes (11/23/03), KNBC News (Aug. 30, 2007) and ABC News (9/11/07). He's in the National Film Board of Canada documentary "Give Me Your Soul" which premiered 10/20/00 on the CBC program Newsworld.
He's been interviewed by over 50 radio stations around the world, including Los Angeles's talk radio powers KFI and KLSX.
The son of a Christian evangelist, Levi grew up in Australia until moving to California in 1977. During the 1980s he wrote for various newspapers including the Auburn Journal and worked as a reporter in the news department of KAHI/KHYL radio in the Sacramento area. He studied economics at UCLA but dropped out short of his undergraduate degree.
"…he breaks legitimate stories that have a huge impact."

Emmanuelle Richard, Online Journalism Review (July 9, 1998)
"…aggressive, eloquent, he's a kind of shaggy-haired, acid-washed Brad Pitt…"

The Weekly Standard (Sept. 21, 1998)
"Smart, insightful and with a charming Australian accent, Ford is one of the most fascinating characters…"

Michelle Goldberg, Speak magazine (Jan. 1999 issue)